Iran renewed threats to kill former Secretary of State Mike Pompeo and the envoy who worked with him on Sunday. An account associated with the Iranian regime tweeted: "Live in fear liar," along with a picture of Pompeo with the crosshairs from the scope of a gun on his forehead. The tweet indicates that Pompeo should be assassinated for his work to kill Soleimani.
Story continues below:
___________________________________________________________________________________________________________________________
___________________________________________________________________________________________________________________________
Iran renewed threats
This account is associated to #Iran's regime. Here it has posted an image of former US secretary of state Mike Pompeo with a crosshair on his forehead. @Twitter should not be used to post death threats. The account should be suspended permanently. @TwitterSupport@TwitterSafety

@HeshmatAlavi

As much as independent journalist Heshmat Alavi tried to get the tweet removed, it was still up as of June 21. Twitter apparently only polices Conservatives, and does not remove terrorist threats. How that will play out after Musk fully takes over is up in the air. But these terrorists have posted many threats to various people critical of their hardline regime.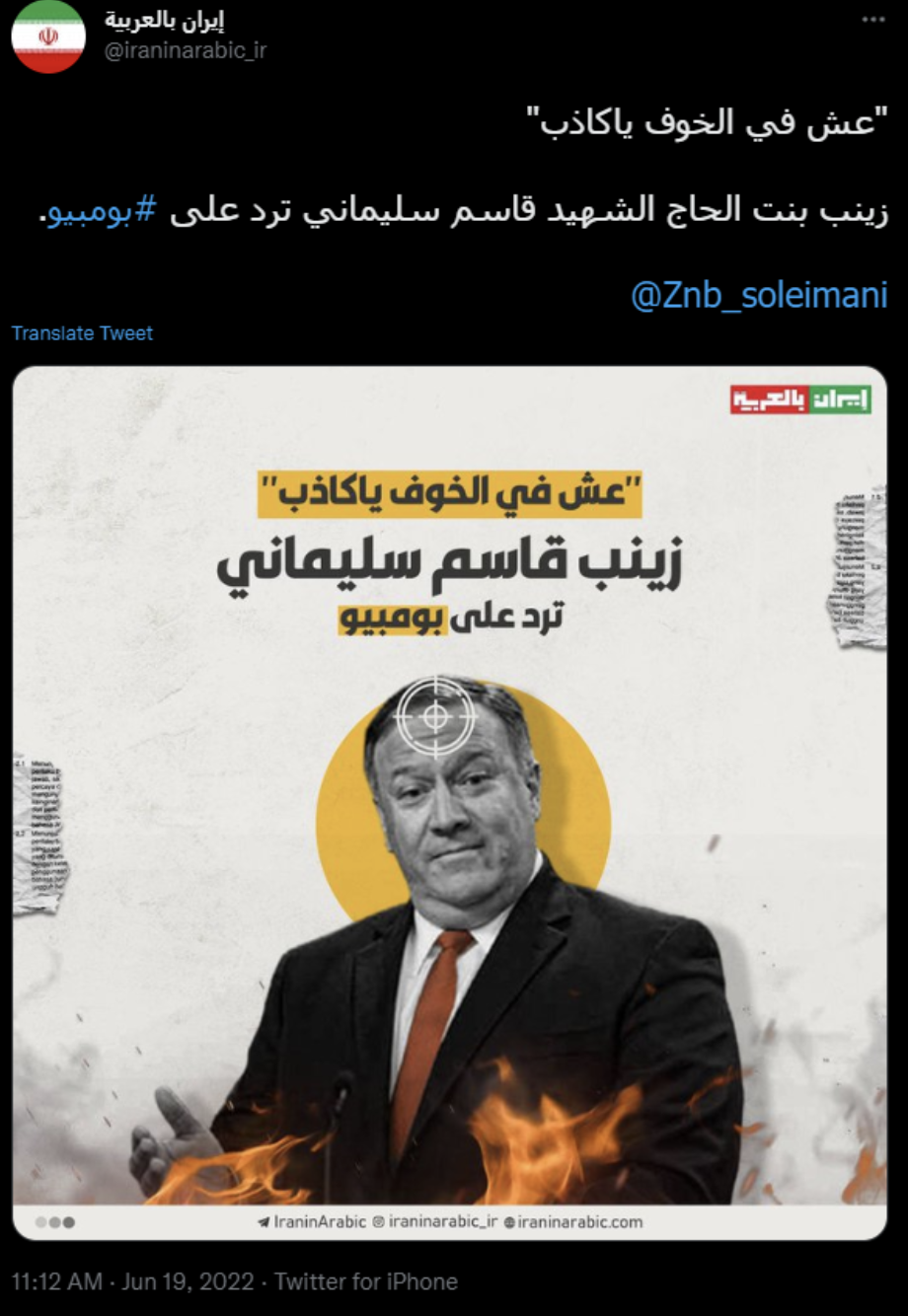 Soleimanis daughter Zainab also pushed the threat for his assassination on her own Twitter account on June 17.
pompeo whines about Iran on Saudi TV. Home of 9/11 plotters.

Jake Sullivan said Al-Qaeda "is on our side in Syria," but Soleimani crushed the terrorists.

Iraq's Adil Abdul Mahdi said he & dad were to meet that morning to explore regional de-escalation.

Live in fear liar. pic.twitter.com/oYgdNOCbTI

— zainab soleimani |زینب سلیمانی (@zainab_soIamane) June 17, 2022
Others responding to her tweet said things like "prepare their coffins and shrouds" along with numerous pictures of Soleimani.
Iran has been planning to attempt the assassination since the drone strike in 2020. Brian Hook, the Iran envoy who also worked to get the information needed for the strike is also a target of the threats. The threats are onsidered credible and the State Department says it is taking them seriously.
"Make no mistake: the United States will protect and defend its citizens. This includes those serving the United States now and those who formerly served. As Americans we are united in our resolve against threats and provocations. We are united in the defense of our people. Should Iran attack any of our nationals it will face severe consequences."

State Department spokesman to the Free Beacon
The threats are aimed at the families of both men as well.
"The Islamic Republic has made its decades-long chants of 'Death to America' more specific by calling for the murder of leading American public servants including Secretary Mike Pompeo and Special Representative Brian Hook. These threats by the dictatorship in Iran are not mere slogans, it is this regime's strategy. The Biden administration must take these unacceptable threats seriously. In the long term, as a matter of policy and U.S. strategy toward Iran, we must know these threats will not end as long as this dictatorship is in power."

Cameron Khansarinia, policy director at the National Union for Democracy in Iran
Instead of punishing Iran for such threats, the Biden administration is sucking up to them to get a new nuclear deal.
*****
Featured screenshot of Brian Hook and Mike Pompeo (file)
Sign up for our Uncle Sam's Misguided Children newsletter! Our website link has been censored on Facebook and Instagram, so be sure to visit us on the web or Parler, MeWe page and group, GAB, Gettr and new Instagram account is here. Here is the link to our gun store at https://unclesamsguns.com/.