Almost every single gun control debate I have been in (there has been literally hundreds) the gun control advocate always ends up comparing gun death statistics in the United States to gun death statistics in Australia and European countries.  I have already laid out the flawed, inflated US statistics the left likes to tout in a previous article which you can find here.  This article also touches on European countries after gun bans. Today I'd like to point out how the left uses flawed, and often inflated statistics when they refer to these foreign countries, namely the Australia gun ban.
First, it is very important to note that the Bill of Rights, drafted by the genius James Madison, clearly lays out that RIGHTS that each US citizen has for simlpy being alive. Inalienable rights, that no government or man can take from us.  The countries that we are often compared to by the left do not have the luxury of this protection.  Having said that, I will now go on to do what I do best, and that is to systematically destroy the leftist argument with facts, data and statistics.
CLAIM: "Australia banned ALL guns and it STOPPED all mass shootings."
FACTS: Here are the Mass killings in Australia listed on Wikipedia since the gun confiscation/buy back.
| | | | | | |
| --- | --- | --- | --- | --- | --- |
| Murder Suicide | 28 June 1997 | Richmond, Tasmania | 5 | | Peter Shoobridge cut the throat of his 4 daughters whilst they slept then took his own life with a rifle after cutting off one of his hands with an axe.[10] |
| Wright St Bikie Murders | 8 October 1999 | Adelaide, Australia | 3 | 2 | Hell's Angels feud[11] |
| Childers Palace Backpackers Hostel fire | 23 June 2000 | Childers, Queensland | 15 | unknown | Arson attack by Robert Paul Long, which killed 15 international backpackers |
| Monash University shooting | 21 October 2002 | Melbourne, Victoria | 2 | 5 | Mass shooting attack by Huan Yun "Allen" Xiang |
| Churchill Fire | 7 February 2009 | Churchill, Victoria | 10 | unknown | Arson attack by Brendan Sokaluk that killed 10 people, during the Black Saturday bushfires period |
| Lin family murders | 18 July 2009 | North Epping, New South Wales | 5 | unknown | Blunt instrument attack that killed 5 members of the Lin family |
| 2011 Hectorville siege | 29 April 2011 | Hectorville, South Australia | 3 | 3 | Siege attack where Anthony Carbo murdered 3 people and injured 3 more including 2 police officers. |
| Quakers Hill nursing home fire | 18 November 2011 | Sydney, NSW | 11 | | Arson attack by Roger Kingsley Dean, a nurse, which killed 11 people |
| Rozelle fire murders | 4 September 2014 | Rozelle, New South Wales | 3 | 2 | Arson attack by Adeel Khan which killed 3 and injured another 2.[12] |
| Hunt family murders | 9 September 2014 | Lockhart, New South Wales | 5 | 0 | A Mass shooting and Familicide by Geoff Hunt who killed his wife and three children before turning the gun on himself |
| Sydney Siege | 15 – 16 December 2014 | Sydney, NSW | 3 | 0 | Siege. A lone gunman, Man Haron Monis, held hostage ten customers and eight employees of a Lindt chocolate café located at Martin Place in Sydney, Australia. The NSW Police Tactical Operations Unit shot Monis dead, after he executed a hostage. In the exchange one person was hit by Police bullet fragments, causing accidental death to one of them. known as the 2014 Sydney hostage crisis it was a 16-hour siege. |
| Cairns child killings | 19 December 2014 | Cairns, Queensland | 8 | 1 (self-inflicted by perpetrator) | Stabbing attack and Familicide. 8 children aged 18 months to 15 years killed. Thirty-seven-year-old woman also found injured. The woman, Raina Mersane Ina Thaiday, was later charged with the murder of the children, 7 of whom were hers, plus her niece.[13] |
| January 2017 Melbourne car attack | 20 January 2017 | Melbourne, Victoria | 6 | 30 | Vehicular attack. Dimitrious Gargasoulas drove a Holden Commodore into Bourke St Mall, resulting in the deaths of 6 people and injuring 30+ others. |
Clearly you can see at least 2 mass shootings on this list. One of these is even a school shooting Monash University.  So we see, yet again, LITERAL lies coming from the left with this claim.  Also we see a very invalid argument. Not only has there, IN FACT, been mass shootings since the ban, but the amount of mass KILLINGS has stayed consistent before and after the gun ban and confiscation. Yes, the homicide rates in Australia fell, but they fell on par with even the gun toting USA which these charts show.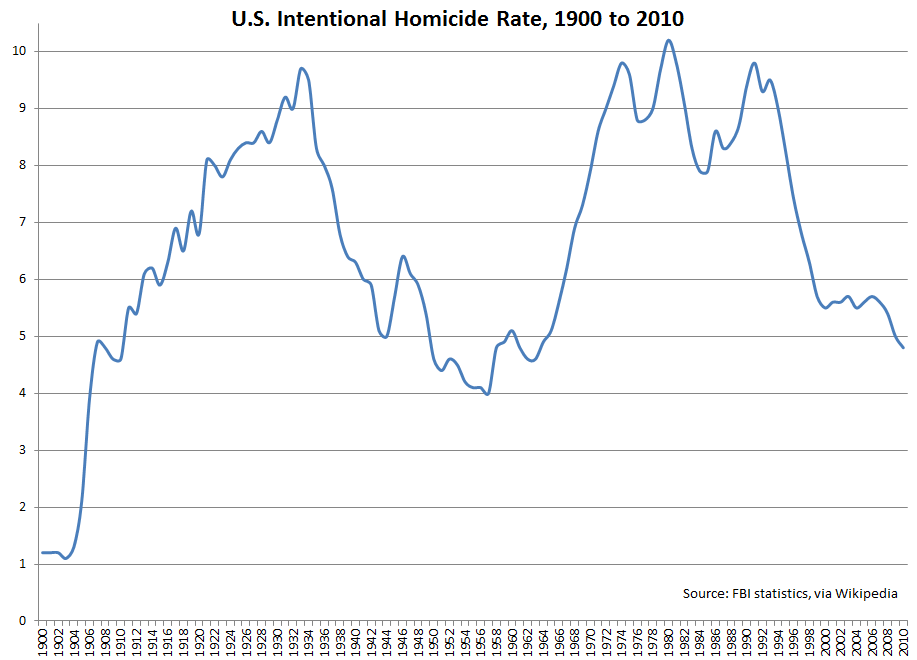 The bottom line is this, the gun ban/confiscation enacted in Australia did not decrease the amount of mass shootings/mass killings in the country. IN FACT, the gun ban in Australia did not even lower the homicide rate of the country.
The homicide rate only began to fall to numbers lower than the ban EIGHT years after the ban was enacted, AND this drop in homicides was also evident in our great, gun toting nation. It is also important to note that at the same time homicides fell in the US from about 1992 to 2010, gun sales trended upwards according to the ATF.  So there are more guns on the streets and homicides declined.
The next time your liberal, gun grabbing, freedom hating friend brings up Australia as some sort of argument for gun control please slap them in the face with these facts.